The Olsen Lab focuses on engineering new biofunctional and bioinspired materials and understanding the novel polymer physics required to control the nanoscale structure and properties of these complex systems.  To do this, we apply cutting-edge polymer chemistry and protein engineering to synthesize new materials at the interface of biology and the physical sciences.  To intelligently design such systems, we investigate the relationships between molecular structure and self-assembly, applying concepts from block copolymer assembly and polymer gels to understand complex biohybrid materials.  Our efforts are aimed at applying biological components or biological design principles to dramatically extend the capability of soft materials such as engineering plastics, energy converters, catalysts, and biomedical hydrogels.  Through the study of natural polymer systems, we also hope to produce a new sustainable source of functional polymers.
---
Recent News
1/06/2022
The Olsen group would like to welcome new graduate students Alexis Hocken, Natalie Mamrol, Devosmita Sen, and Alex Zappi! Alexis graduated from ASU (Class of 2021), Natalie from Penn State (Class of 2020), Devosmita from IIT Bombay (Class of 2021), and Alex from University of Louisiana (Class of 2021)! We are excited to have them join the group!
---
1/01/2022
Just published in Macromolecules, Drs. Akash Arora and Tzyy-Shyang Lin use coarse-grained simulation to describe how topological defects affect polymer network fracture properties, important for designing materials with improved mechanical performance!
Link to Paper in Macromolecules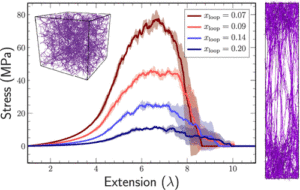 ---
12/17/2021
Congratulations to the Olsen lab for winning the Door decorating contest in MIT ChemE!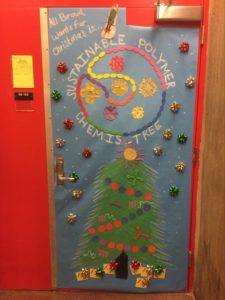 ---
12/15/2021
Excited to share our latest work by graduate student Ameya Rao in collaboration with Prof. Jorge Ramirez (Universidad Polytecnica de Madrid), a deep dive into anomalous diffusion of multi-sticker associating polymers using Brownian dynamics!
Link to Paper in Macromolecules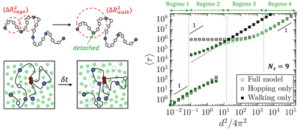 ---
11/01/2021
Check out the Olsen group's presentations at AIChE next week in Boston! We look forward to seeing everyone in person!

---