---
12/06/2022
Congratulations to Dr. Ameya Rao for passing his thesis defense titled "Structure and Dynamics of Associative Polymer Gels", and a special thanks to his thesis committee members: Professors Gregory Rutledge and Pat Doyle!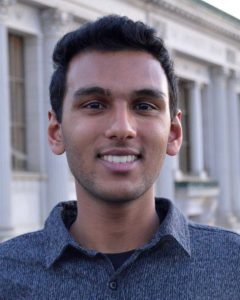 ---
11/14/2022
Check out our recent Perspective article on the challenges & opportunities in polymer informatics & autonomous experimentation, told through the lens of human-machine networks & interfaces!
Link to Paper in Cell Reports Physical Science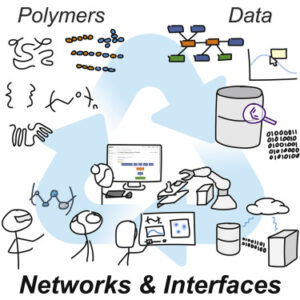 ---
11/7/2022
Congratulations to Dr. Melody A. Morris for her new work on the development of a low-cost, automated, high-throughput, combinatorial protein expression platform to accelerate protein materials development!
Link to Paper in Molecular Systems Design and Engineering
---
11/6/2022
The Olsen lab group photo on a beautiful fall day!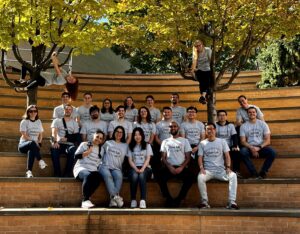 ---
10/17/2022
Congratulations to Dr. Tzyy-Shyang Lin, Nathan J. Rebello, Guang-He Lee, and Melody A. Morris for their publication in ACS Polymers Au on a new canonicalization method for the BigSMILES line notation! In one approach, linear polymers can be converted into regular languages, and the minimal deterministic finite automaton can be constructed and associated with each distinct polymer.
Link to Paper in ACS Polymers Au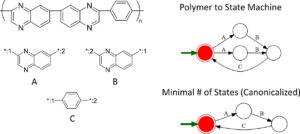 ---
10/14/2022
Congrats to Sarah Av-Ron and Kat Fransen for their second place video ($1000 award) in the 2022 J-WAFS' Student Video Competition! They also won the Judges' Award for Research Originality ($200) and Judges' Award for Creative Communication ($200)!
---
10/11/2022
We would like to warmly welcome postdoctoral associate Yu Zheng to the group, who got her PhD from Stanford advised by Professor Zhenan Bao!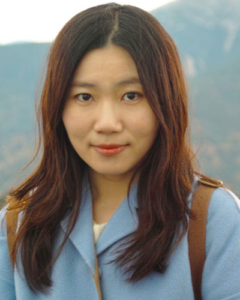 ---
10/11/2022
We enjoy the beautiful fall weather and continue the group tradition of apple picking at Honey Pot Hills Orchard!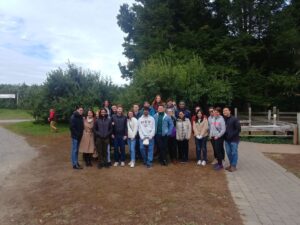 ---
9/19/2022
Congratulations to Dr. Weizhong Zou for his new publication in Chemical Science, extending BigSMILES line notation to noncovalent bonds to support supramolecular materials and colloidal chemistry!
Link to Paper in Chemical Science
---
9/16/2022
Today, join us for Multiverse: Art of Polymers, a concert series combining music and science in live performance!
Link to press release!
---
8/18/2022
Out for ice cream with Professor Marisa Beppu from the University of Campinas! We thank her for her expertise and collaboration as she returns to Brazil!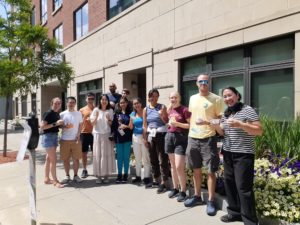 ---
8/03/2022
We welcome to the group Axel Rosenvinge, a visiting masters student from Aarhus University in Denmark! We look forward to working with him!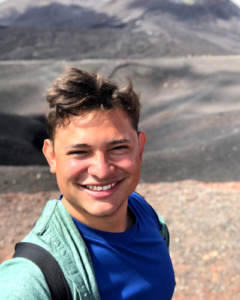 ---
7/28/2022
In his new work in Macromolecules, graduate student Oliver Xie extends classical self-consistent field theory to sequence-defined polymers, enabling the design and discovery of phases of complex polymer sequences!
Link to Paper in Macromolecules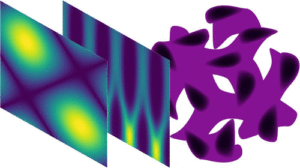 ---
7/28/2022
Dr. Irina Rasid's publication explores the fascinating effects of entanglements on self-diffusion and relaxation in associative polymer gels! Congratulations to collaborators Ameya Rao from the Olsen group and Professor Niels Holten-Anderson from Lehigh University!
Link to Paper in Macromolecules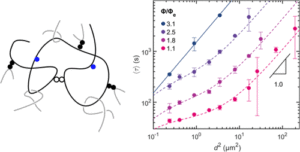 ---
7/27/2022
Postdoctoral associate Dr. Yiping Cao's new work describes simple, effective strategies for improving the mechanical performance of protein copolymers as alternatives for conventional plastics!
Link to Paper in Biomacromolecules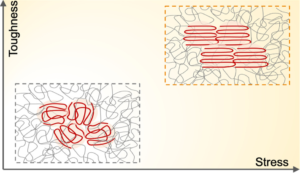 ---
7/25/2022
Dr. Weizhong Zou's exciting new work in Macromolecules uses multiscale approaches to determine the reaction kinetics of radical-mediated grafting of vinyl akoxysilane monomers to polyolefins!
Link to Paper in Macromolecules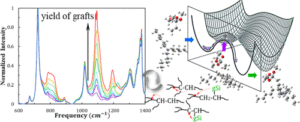 ---
7/22/2022
We would like to warmly welcome Bruno Salomão Leão, a visiting student from the University of Campinas, who will be contributing to the CRIPT project!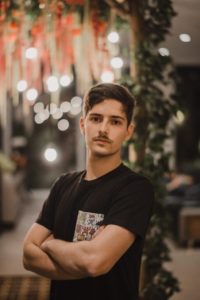 ---
6/23/2022
Congratulations to the newest Associate Editor of Macromolecules, our professor Dr. Bradley D. Olsen! Check out the press release!
---
5/30/2022
We warmly welcome our new postdoc and colleague Dr. Jiale Shi, coming from the Whitmer Group at the University of Notre Dame who will contribute to CRIPT project in the Olsen Lab!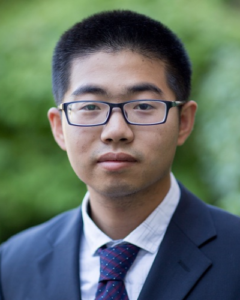 ---
5/30/2022
This spring, we welcomed postdoctoral scholar Mike Deagen (PhD from Rensselaer Polytechnic Institute and previously a postdoc with NanoMine). Mike's background in data visualization and FAIR data infrastructures is being applied toward the development of the CRIPT user interface and polymer representations.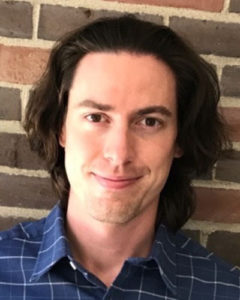 ---
5/10/2022
Graduate student Katharina Fransen was selected as a J-WAFS Fellow for Water and Food Solutions! Her work in developing biodegradable and bio-based plastics will address the global challenge of protecting communities from large quantities of plastic waste!
Read more in the press release here!
---
4/27/2022
Congratulations to Dr. Celestine Hong, a PPSM graduate student co-advised by the Olsen and Hammond labs, for successfully defending her thesis!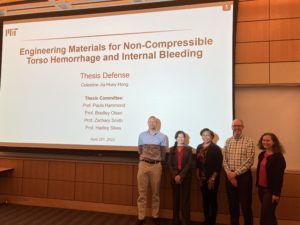 ---
3/15/2022
Olsen lab graduate student Ameya Rao presents his work at the Padden Award Symposium at the APS March Meeting!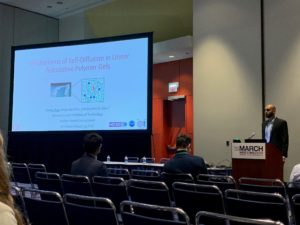 ---
2/23/2022
Excited to share our latest review article with the Hammond lab on treatments for non-compressible torso hemorrhage (NCTH) and internal bleeding!
---
2/07/2022
Excited to share our latest work in ACS Nano on the effect of particle size on hemostatic efficacy, collaborating with the Hammond lab and Dr. Velmahos' surgeons at MGH! Congrats to Celestine Hong, Osaid Alser, Anthony Gebran, Yanpu He, Wontae Joo, and Nikolaos Kokoroskos!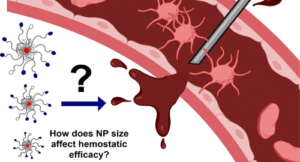 ---
2/07/2022
Suppressing the influence of humidity in protein-based materials is central to their use in a variety of applications. In this recent publication in our group in Materials Advances, whey protein was superneutralized to demonstrate a lowered mechanical dependence on humidity.
Link to Paper in Materials Advances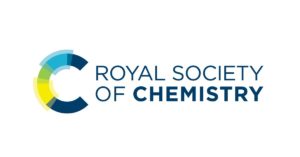 ---
2/01/2022
Congratulations to Ameya Rao for being selected as a Frank J. Padden Jr. Award finalist for the 2022 APS March Meeting! Check out his work here.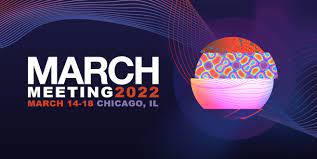 ---
1/06/2022
The Olsen group would like to welcome new graduate students Alexis Hocken, Natalie Mamrol, Devosmita Sen, and Alex Zappi! Alexis graduated from ASU (Class of 2021), Natalie from Penn State (Class of 2020), Devosmita from IIT Bombay (Class of 2021), and Alex from University of Louisiana (Class of 2021)! We are excited to have them join the group!
---
1/01/2022
Just published in Macromolecules, Drs. Akash Arora and Tzyy-Shyang Lin use coarse-grained simulation to describe how topological defects affect polymer network fracture properties, important for designing materials with improved mechanical performance!
Link to Paper in Macromolecules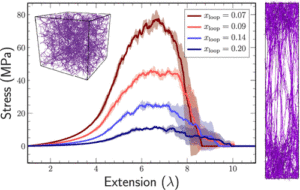 ---